NANO 1212 CNC Cutting Machine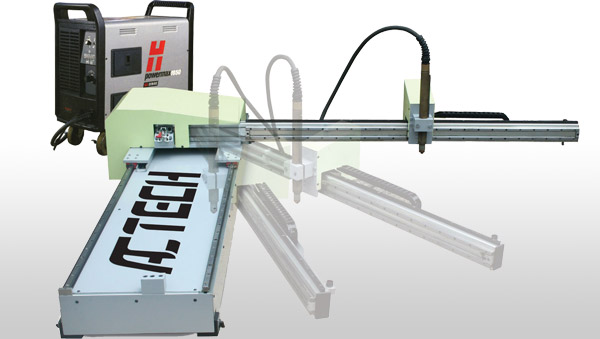 Nano 1212 CNC Cutting Machine manufacturing system was in place with highly efficient assembly line which allows a mass production. In consequence, we have reduced the production cost substantially. Yet, increase of production volume lead an increase of purchase bargaining power. The saving in purchasing in bulk becomes more significant accordingly to the drastic increase of machine that we produce.
While research and designing stage, one of the crucial factors is on delivery cost. Nano Series was designed as a 'folderable' machine which reduces the space of shipping case. This design solves loads of shipping problem and yet gaining in the drastic reduction of shipping expenses.
All these cost savings ultimately brought NANO 1212 CNC Machine's price to unbelievable level.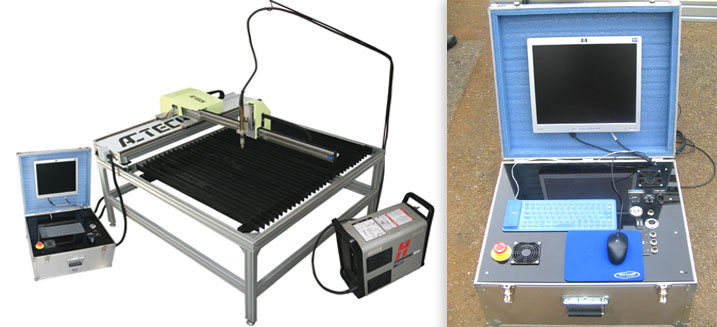 Nano with table
Benefits of the Cantilever Design
Nano1212 Cantilever Design is more flexible and user friendly. The Cantilever design provides the following benefits:
• 'Folderable'
• Easier access to the head
• Fast set up
• Smaller footprint
• Ability to load oversized plates
• Easy unloading or part picking
Features
• May install either plasma or flame (oxy-acetylene) torch
• Extruded aluminum profile as gantry structures.
• Linear motion guide for both x, y axes
• Rack & Pinion (Gear-Wheel) Transmission for X & Y axes
• May mount either plasma or flame torch
• Included cnc controller (interfaced with branded PC) which designed into a single suitcase
• CNC Controller Specification:17" LCD Monitor, keyboard, Optical Mouse, USB-Port, Hard Drive and 512MB RAM
• Uses F.I.A.-274D G-Code, Feed overrides on the fly, Manually run G/M code from MDI Screen (one line code). The input can be saved in a CNC File
• 'Plug-n-play' Interfacing between controller and machine
• Least set-up time
• Japan/USA Stepper motor & Drives for all axes
• Magnetic positioning device ease the machine relocation in just a 'click'
• 'Folderable' gantry lead to space saving
• Lighter weight which ease shifting from one to another working site
• Wheeled structure designed let machine shifting with only one manpower
• Inclusive of ICAM Software (Licensed)
• Inclusive of Window-Based PC Controller with CMC4 Controller Software (Licensed)
Optional
• Z-axis motorized lifting station
• Intelligent Digital Height Control (IDHC)
• NANO Series Machine Table with Slotted slat support brackets
Call AC Meca (M) Sdn Bhd now for more FREE information about this amazing machine at 607-599 0168 or email to sales@ actech.com.my
The Leader In Affordable CNC Technology
Nano 1212 Specifications


Cutting table specifications
Cantilever machine with one plasma / flame holder
Longtitudinal drive
Stepper / Rack & Pinion / Linear Guideway
Transverse drive
Stepper / Rack & Pinion / Linear Guideway
Effective cutting width
1200mm / 48"
Effective cutting length
1200mm / 48"
Maximun travel speed
13, 000 mmm / min
Power supply
115/230 VAC 50/60 Hz 10A
CNC controller specifications
Actech PCD 1 pc based CNC controller (window based)
Screen
17" LCD
Accessories
Keyboard, optical mouse, usb port, 1.44mb floppy drive
CNC language
Uses F.I.A - 274c D G-Code
Jog Control
X, Y & Z Axes; optional for z - axis
I-Cam software
Input
Read CAD'S DXF, PLT files
Features
Show cutting paths, rapid moves and path direction
Parameters
Programmable kref width, plunge rate, feedrate, pierce delay, cut direction, lead-in and lead-out size.
Tool options
Plasma
Capacity based on machine model
Flame
Capacity based on machine model
VIdeo Clip